Page 4 of 13
How Prayers and Faith in God Blessed our Family
God Answered my Parent's Prayers
Written by Jessica Lucas, Gainesville District
It was early one a Sunday morning that my mother, Janice Phillips and father, C.W. Phillips eagerly awaited my arrival. I was the first baby in my family to make it this far. Before my life began, my parents went through the tremendous pain and discouragement of five previous miscarries. During those difficult years, many questions plagued my mother. She did not understand why God had not allowed her previous babies to live. My dad, on the other hand, kept encouraging my mother. He continued to believe and have faith in God for them both. No matter what happened, he continued to storm heaven for a miracle.
Sure enough, my parent's prayers were answered on July 17, 1983. It was the day that God blessed them with "yours truly," a cute little baby girl. My parents were amazed as they beheld me, and praised God, for their little bundle of joy. I was their miracle child, I survived, and they were overjoyed. There were a few problems, however; I weighed only 1 pound and 4 ounces and only had a 10 percent chance of living. It was also very doubtful that if I survived, I would live a healthy life.
Once again, the prayers of the righteous soared to heaven as my father gathered nurses, doctors, and members from the Church of God by Faith to pray for his little miracle to pull through. Having faith in a miracle-working, prayer-answering God is not easy when certain situations arise. But, this young couple always remembered the Sunday morning that God granted their most heart-felt request, and continued to bless as I survived and thrived.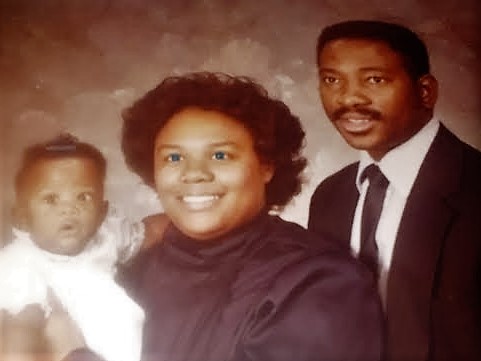 The following two testimonies are from my mother, Janice Phillips. The first is when she decided to go back to college to pursue her Bachelors and the second is when she and my dad were praying for a home in the country.
Mom's Testimony: Mom Graduates AND College Tuition is Paid!
"I went back to college in my mid-30s.  The Lord allowed me to work full-time, help raise my 2 kids and go to school part-time. My hope was to finish in four years, but it took six.  I Thank God that I made it.  There were a few times when I would not get out of the office in time to catch the bus to school, which was a mile away.  When this happened, I would walk.  I continued to faithfully attend my church services because I knew I needed to keep God first. I PRAYED A LOT!! There was one class I was concerned about passing because I had been out of high school for so long. I Petitioned and received approval to have it WAIVED.  God will MOVE the mountain. I used the College Tuition Program as often as I could.  So when I walked across that stage to receive my diploma, I was COLLEGE DEBT FREE!"
Mom and Dad' s Testimony: A Miracle Home Purchase!
"My husband, C.W. and I wanted to move out of the city and back into the country. We started to look for land. There was a particular piece of property we wanted, but the owners were not willing to sell. One day, I was picking up my two kids and I noticed a sign on the ground in the area we were looking. I went over and read it and made a call to the realtor. The property was a being sold in a silent auction. We made an offer, which was rejected.  I prayed and asked God for direction.  Then we made a second offer, which was accepted.  We moved into a home, which we were able to fix up only about $3,000.  I found out later that we secured the home and property for much less than the original asking price. Then, we started thinking about the down payment.  We did not have the amount needed to secure a loan.  We kept moving forward and found a contractor and selected a house plan.  An appointment was set to meet with the banker.  Before we went into the office, I stopped and PRAYED over the house plans.  After the meeting, the banker told us that the contractor, who we did not know, wanted to build the house for us.  Our loan was approved and we paid NO DOWN PAYMENT" All I can say is "to God be the GLORY!!!"
 My Testimony: Facing The Challenges in My Marriage
I know faith is the substance of things hoped for, but what if the things we are  "hoping for" have not come to pass? Being firmly planted and grounded in faith and prayer is what God responds to. I learned that when we fully trust God for all things, He will respond accordingly.
Because my parents loved God and bathed our family in prayer, I grew up in a Christian home full of laughter, fun, prayer and praise. In my family, going to church was not an option. My family's life focused on ministry and the teachings of a risen Savior. All I knew was serving others before myself, and being a light to those coming up after me. Little did I know, that the very thing I was brought up on, would be shaken and tested.
When I met and married my husband, our relationship was (and still is) based on faith and prayer. I had never met a young man with so much faith in God. It still amazes me sometimes. Early in our marriage, we believed God for several things and within the first few years, all of our requests were granted.
The scripture in Romans 12:3 says we should not think of ourselves more highly than we ought to think: "but think soberly, according as God hath dealt to every man the measure of faith." (KJV) I would trust God for some things, but in other areas of my life, my faith would shatter and fall.
Like most wives, I've encountered difficulties trusting God in my marriage. I knew that other couples also struggled. I knew that we would also have our share. Yet, I felt unprepared to handle the challenges because before I became married, everything was taken care of by my parents. Therefore, when difficulties arose, I depended on my husband to handle them. I knew that I also should have put my trust in the Lord. Even though I had enough faith to "leave and cleave" my faith was still shaky at times. I still needed to learn to trust God for myself, especially when it came to working in the ministry.
Facing  Challenges in My Ministry
Transitioning into God's call for ministry can be difficult. My Grandfather knew this, and began preparing me when I was a just a little girl. He watched me go on outreach sessions and nursing homes in the community singing hymns and reading scriptures while other kids were out having fun. He would call me Miss P. (short for Miss Phillips). It was only recently that I discovered that his "Miss" was short for Missionary. But I didn't understand what the Lord was doing until after I became consecrated as a missionary in  2010.
As an adult at the beginning of my missionary journey, I wouldn't vocalize the many ideas that God gave me to support the missions and outreach departments of our church. I was fearful and timid. Also, the idea of going from house to house, telling people about the good Lord was not my cup of tea. My fear of rejection was too great! Presently, however, I have overcome those challenges. I am facing the trials that come with this ministry. Additionally, God has blessed me to make great strides by sharing ways to bridge the gap between the older and younger generations in evangelism and other outreach endeavors. It has taken me five years, but I am finally walking in my calling.
Living the Christian life as a young, married woman is not easy. However, through following the leading of the Holy Spirit, and adding a whole lot of faith and prayer, I have learned that all things are possible. I have overcome many hurdles being a young, married woman. As an adult, I had to re-learn how to walk "by faith." Now, I am proud to say the Lord has truly revolutionized my faith in Him.