Page 3 of 10
Mother Maxine Robinson Interview
by Mrs. Olivia Watkins and District Elder John Robinson, III, Florida East Coast District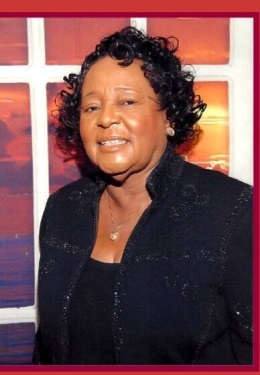 Q:  When Mother Robinson was asked to tell us about herself and her history in the COGBF we learned the following:
A:  Mother Maxine Jacobs Robinson was born to Charlie and Ophelia Jacobs on August 6, 1937.  She lived in Yulee and Jacksonville, FL, where she also attended school. Mother Robinson has been a member of the Church of God by Faith since her childhood.  She grew up in the church, where her mother and father were already members. She was saved at the age of 13 under the leadership of Elder Zettie Lawrence in Yulee, FL. She married Elder Dr. John Robinson, Jr. in 1954.  At the time, she had no idea she would become a pastor's wife and definitely not the wife of a national church leader. They were blessed with 59 years of marriage until Elder Robinson went to sleep.
To this union, seven children were born. Elder Dr. Robinson and Mother Robinson's first pastoral assignment with the Church of God by Faith Inc., was in 1957 in Hastings, FL. Her husband, (a dynamic young minister) began conducting revivals all over the state, and in 1959, they went to Fort Pierce, FL.  After conducting such a successful revival and having such an impact on the church and community, this solidified the need for Bishop W.W. Matthews and the Supreme Council to appoint him as pastor of the church in Fort Pierce, FL. This began a long journey for them in a leadership capacity on the local, district, and national level. 
Mother Robinson remained constantly supportive by her husband's side in the ministry.  In their early years at the Church of God by Faith in Ft. Pierce, FL, Elder Robinson was the musician, and she was one of the lead singers for the choir, with her beautiful soprano voice.
In the National church, Mother Robinson is the President of the Helping Hands Ministry, where each year she raises funds to assist the older mothers of the Church of God by Faith Inc. Being the true missionary that she is, Mother Robinson is blessed with the Ministry of Helps, and she enjoys cooking and caring for others. She is a member of the National Leading Ladies of the Church of God by Faith, Inc., the Superintendent's Wives, and Pastor's Wives. She continues to serve on the Florida East Coast District as District Leading Lady Emeritus. Mother Robinson serves on the District Women's Council. She also serves as District Mother and advisor to the District Food Committee. At her local church in Fort Pierce, she serves as a leader for the women of the church as Chairperson of the Women of Excellence, Co-Chairperson of the Food Committee, Church Mother, teacher, and Missionary with the Ministry of Helps and on the Sick and Shut-in Committee.
Mother Robinson really exemplifies the true characteristics of a church mother and a leader's wife. She is a role model for the young and aged women of how Christian women should carry themselves. As a mentor and counselor, many women have been blessed through her with their marriages, the rearing of their children, and as women serving in the church.
After 58 years, she is still striving to assist and be a blessing to others as well as the church as a whole and her community.
Q:  What are some helpful hints you can share to help young minister's wives?
Minister's wives should be examples in dress, conduct, attitude, and behavior
If pastors [wives] are to counsel other members, don't you be guilty; you are the role model for the other ladies in the church.
Don't say "my people" because they are not your people, but they are God's people.
Minister's wives are to serve, not be served; but they are; however, to be honored and respected.
If you honor and respect the members, they will respect you as well.
When the Lord calls your husband, he calls you too.
People don't have to appreciate you. They do that from their heart.
Stay focused on your job to serve the people, pray to God, and don't share of all your personal business with the members.
If your husband does share something with you, don't share it with anyone else.
Let the people see that you love your husband, so when he counsels others, they can see the love between the two of you.  
None of us are perfect. If you have problems in the home - and you will, don't bring it to the church.
Reach common ground.
Live right before people.
Give sound doctrine and sound advice.
Don't tell them what you wouldn't take.
Remember this scripture: Titus 2:  3 The aged women likewise, that they be in behaviour as becometh holiness, not false accusers, not given to much wine, teachers of good things; 4 That they may teach the young women to be sober, to love their husbands, to love their children, 5 To be discreet, chaste, keepers at home, good, obedient to their own husbands, that the word of God be not blasphemed.
Q:  What are your thoughts on the most effective way older women and younger women can reach greater common ground?
A:  Above all, older women share positive experiences and younger women should listen and try to follow good examples.  The younger women [who are pastor wives] should focus on trying to be a good Christian first, then they will be a good pastor's wife, a good minister's wife, and overall, a good person.