Page 6 of 22
Brunswick Stew
From the COGBF Cookbook:
Submitted by Angela Small (South Georgia District) Posted April 3, 2015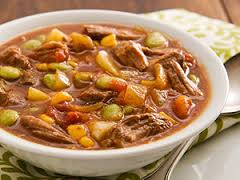 Ingredients
1 Pork Roast
2 cans of whole kernel corn
2 cans cream style corn
2 cans sweet peas
2 cans mixed vegetables
1 can whole tomatoes
1 can tomato paste
1/2 cup BBQ sauce
Pinch of black pepper
Directions
Roast pot roast in oven til done according to instructions. Let cool and cut into small pieces. Add all of the other ingredients in a large pot and let simmer for 1 hour.  Stir frequently.