Page 10 of 22
Jessie's One Pot Chicken Dinner
Submitted by Jessie McKnight (Gainesville District) Posted April 3, 2015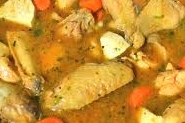 Ingredients
1 package of chicken (may use wings, legs or breasts)
1 pound fresh carrots
1 stalk celery
1/2 medium onion
6 large red potatoes or several small
Season salt lightly to taste
1/2 Packet Goya seasoning
1 tablespoon corn starch
1/4 Cup of Braggs (for marinade)
Water
Directions
Marinade chicken over night in water, Braggs All Purpose Seasoning and salt.  It's important to note that Braggs also has salt so if you use more salt, use less Braggs. It is better to "under-season" in the marinade because you can add salt later.
Place all ingredients in a large pot. Fill with enough water to cover the ingredients. Bring temperature to a boil for 10 minutes; then, lower temperature to simmer.  Cook for 35 - 45 minutes (depending on cut of meat.) Season to taste with salt if necessary.
Serve over a bed of rice or in a soup bowl.