Page 5 of 8
An Honest Talk About Being Single
Written by Michelle Fletcher: NW New York District: April 20, 2015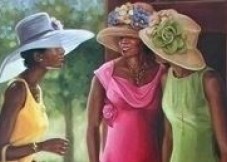 It's no secret that most of our pews are filled with single black women every Sunday.  Studies over the last decade show that single women represent over half of most black congregations. 
Nevertheless, singleness is not a sentence; it is a choice.  Perhaps this is not the most favorable, but a choice nonetheless.   There are available men but they just aren't the ones that attract your attention and that is alright.  What is more important is that a woman's time of singularity is not wasted pining away for God to send them mate, but seeking His will for their life.
All too often, a woman's singleness is the scarlet letter that seems to inhibit her ability to feel accomplished or as successful as a married woman.  We must first establish the fact that whether you are married or single has no correlation to a woman's ability to impact God's kingdom.  There is purpose for every woman's life and each one must give an account to her Father whether she is married or not.
Yes, it's true that companionship is a strong desire for many women.  And in our context, it is ideal to want to stand alongside a God fearing husband and raise beautiful children but, that seems to be more ideal than realistic these days.  The reasons why are uncertain and quite honestly, an alarming issue that is not only affecting saved single black women but single black women at large.
Perhaps it is time to take a deeper look at what God desires for our lives.  How effective can we be for God if we spend so much of our time searching for a mate?
Here's the truth -- there is no formula, there are no secrets and furthermore, we may never know when, who or if we will ever be married.  But if we are looking to attract another believer, it will be through whole-heartedly chasing God's desire to use us as instruments for His glory.  That is the most attractive quality that any person can possess and if we are looking to attract saved men, that is a great way to start!