Page 8 of 8
The 10 Essential Principles of Christian Dating
Written by the COGBF Women's Ministry Staff: March 24, 2015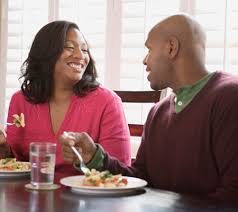 One of the great myths of our times is that the Bible doesn't teach us how to date! Oh, I cannot express just how incorrect that is.  In fact, we have an entire dating, courtship and marriage outline in the book of Ruth.  Recall that Ruth was the young widow who famously said in Ruth 1:16:
" Intreat me not to leave thee, or to return from following after thee: for whither thou goest, I will go; and where thou lodgest, I will lodge: thy people shall be my people, and thy God my God:"
We hear this beautiful passage at weddings all the time but Ruth was actually speaking with her mother-in-law. After the passing of her husband, Ruth solely focused on supporting Naomi and herself while living a wholesome life.  Ruth's values were evident in the passage above and it did not go unnoticed by Boaz as articulated in Ruth 2: 8-11:
8 So Boaz said to Ruth, "My daughter, listen to me. Don't go and glean in another field and don't go away from here. Stay here with the women who work for me. 9 Watch the field where the men are harvesting, and follow along after the women. I have told the men not to lay a hand on you. And whenever you are thirsty, go and get a drink from the water jars the men have filled."
10 At this, she bowed down with her face to the ground. She asked him, "Why have I found such favor in your eyes that you notice me—a foreigner?"
11 Boaz replied, "I've been told all about what you have done for your mother-in-law since the death of your husband—how you left your father and mother and your homeland and came to live with a people you did not know before. 12 
Ruth was found!
Consider this, Ruth was a servant—a common laborer in a field full of women. (Sounds like our Christian dating scene today but I digress.) We know that while Ruth was physically dirty, the essence of her beautiful spirit was so present that the most available man in the region took notice.
Only after the urging of solid counsel from Naomi, did Ruth unleash the sweet nectar of her natural beauty which took her state of "being found" to a whole other level. Ruth 3:1-3
"One day Ruth's mother-in-law Naomi said to her, "My daughter, I must find a home[a] for you, where you will be well provided for. 2 Now Boaz, with whose women you have worked, is a relative of ours. Tonight he will be winnowing barley on the threshing floor. 3 Wash, put on perfume, and get dressed in your best clothes. Then go down to the threshing floor, but don't let him know you are there until he has finished eating and drinking."
This passage is so crucial because we seem to have the whole dating process backwards.  It is sad that so many women allow a man's looks to drive them into a making bad relationship decisions. Additionally, some of the so-called "boring" prospects women overlooked might make actually their Boaz.  Going forward, these 10 essential scriptural principles should guide the dating process:
1. Don't waste time trying to repair broken men. You don't need to be a social-worker in your own relationship. Scriptural Support:  2 Corinthians 6:14 "Do not be unequally yoked with unbelievers. For what partnership has righteousness with lawlessness? Or what fellowship has light with darkness?"
2. Don't compromise your standards.  Scriptural Support: 1 Corinthians 15:33  "Do not be deceived: "Bad company ruins good morals."
3. Don't allow the early but fleeting infatuations to cloud your vision. Scriptural support:  Proverbs 19:2 "Desire without knowledge is not good, and whoever makes haste with his feet misses his way."
4. Don't be shallow. Scriptural Support: Proverbs 31:30 "Charm is deceitful, and beauty is vain, but a woman who fears the Lord is to be praised."
5. The Lord's "got you!" Scriptural Support: Jeremiah 29:11 "For I know the plans I have for you, declares the Lord, plans for welfare and not for evil, to give you a future and a hope."
6. Being young doesn't give you a license to make bad decisions. Scriptural support: 1 Timothy 4:12 "Let no one despise you for your youth, but set the believers an example in speech, in conduct, in love, in faith, in purity."
7. Seek advice from a seasoned member of your family or church and find a strong accountability partner. Scriptural Support: Proverbs 15:22 "Without counsel plans fail, but with many advisers they succeed.".
8. No sex. No petting. No fooling around. Scriptural Support: Ephesians 5:3  "But sexual immorality and all impurity or covetousness must not even be named among you, as is proper among saints."
9. A solid relationship with God is your best relationship strategy.  Scriptural Support: Psalm 32:8 "I will instruct you and teach you in the way you should go; I will counsel you with my eye upon you. "
10. Maya Angelou once said, "When someone shows you who they are, believe them; the first time." The bad characteristics of men can be hidden but so long. Traits such as: ungodliness, substance abuse, jealousy, anger, violence, infidelity and laziness will raise their ugly heads over time. Scriptural support:  Proverbs 27:12 "The prudent sees danger and hides himself, but the simple go on and suffer for it. "
Be thoughtful, prayerful and wise and God will give you the desires of your heart.