Written by Lady Sarah Lundy, Jacksonville District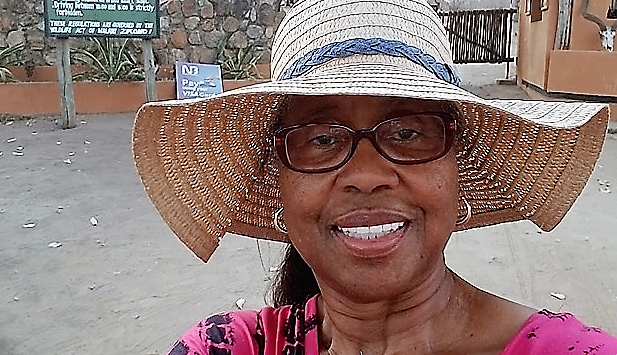 "Please make sure she gets an isle seat, this is her first international flight." my cousin said to the Delta attendant as we checked in at the airport in Atlanta. My cousin Barbara was using a buddy pass and I just needed to make sure she got on my flight and we would sit together. I had prayed, others prayed and were praying but the thought of being in flight for over 18 hours was far beyond my reach and I wanted her [my cousin] close to me. I continued to smile; made more small talk, making sure she knew this really was my first trip abroad. The attendant replied, "Looks like she'll make the flight but I can't make any guarantees." Barbara made the flight but didn't sit with me. Needless to say, all of that anxiety was much-to-do about nothing.  I suddenly remembered I had nothing to worry about. God had everything in control. I found my seat, got buckled in and surrendered completely, giving Him all my fears and concerns.
The flight took off on time at 8:00pm Monday, October 9 and arrived in Jo'burg, South Africa safely October 10 at 5:35pm. I couldn't believe I was in Johannesburg, the largest city in SA.  I stood in the airport in awe of what I was witnessing. Until around 1994, this was a city that separated black and colored people from white people; a city that required them to be inside their house at a certain time and forbade them from using the same facilities that the white people used.  I remembered watching some of the events on network news.  In sharp contrast, now I saw black people working throughout the airport in every position.  Everywhere I looked, I saw someone that looked like me.  I was so proud of what had been accomplished through the social movement against apartheid that only ended a few years after Nelson Mandela was released from prison on Robben Island in 1991. 

There were three items on the itinerary: the school in Malawi, Jo'burg and Cape Town tours.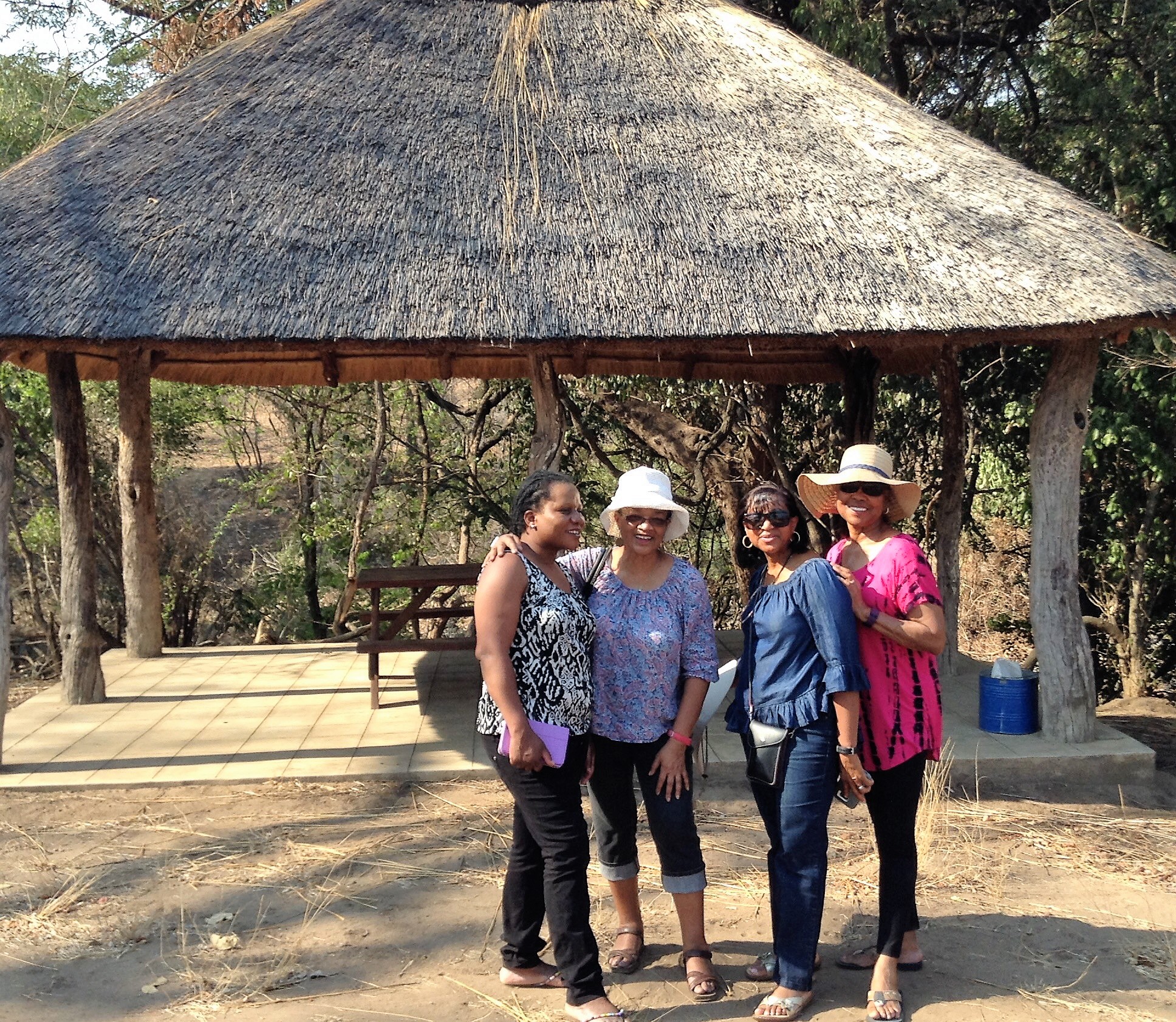 We spent a chilly night in Jo'burg at a Bed and Breakfast Inn that had no heat.  The complimentary breakfast the next morning was sliced hot dogs, sautéed mushrooms, eggs, and tropical fruit cocktail. Not quite what I expected but my introduction to African cuisine really made me start to wonder what I should expect once I got to Malawi. Following breakfast, we headed back to the airport and boarded South African Airways for the three-hour flight to Blantyre, Malawi for the mission at hand. 
Fifteen years ago, while attending a mission conference for her church, Barbara was led to establish a school in Malawi. On this trip, her team included Shon, her son (a flight attendant for Delta); Constance, a missionary at COGIC (Barbara's old church in New Jersey); and me, her first cousin. Barbara is a rock star in Malawi. Once off the plane, we were led to a VIP room where our passports and the VISA fee ($75.00 each) was collected by a church representative who kept us from waiting in a long line. Three drivers were waiting to take us to the host family's home. There were five suitcases (which were left behind) packed with school supplies, pillowcase dresses for the girls and gifts Barbara brought for friends and our personal luggage.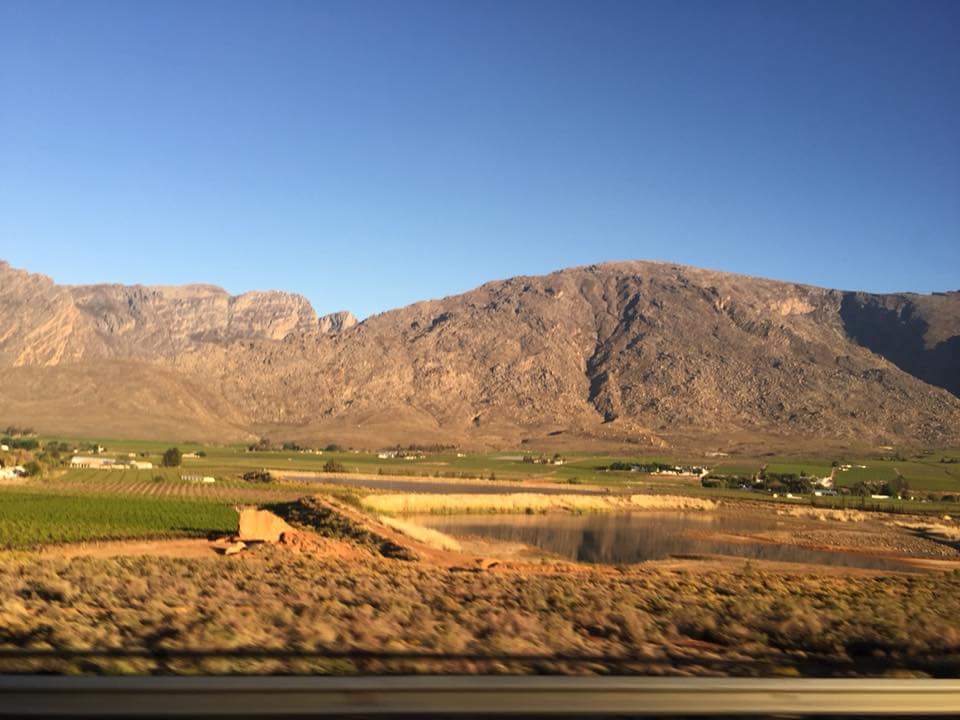 Mevis and Harold both worked outside the home.  Their two older girls prepared our daily meals, breakfast and dinner.  I was warned that one day there might be running water and no electricity and the next day you might have electricity but no running water.  That first night, we had no running water and it was another opportunity to learn an African tradition.  Mevis had a sink in her dining room.  She held a pitcher of hot water and a towel as we all washed our hands.  Then she holds it for Harold and him for her and we sit for dinner at nearly 9 pm.  You never ate dinner earlier than 8:30 or 9pm.  Breakfast was tea, fresh bread, maze, boiled eggs, sliced onions & tomatoes and peanut butter.  Dinner included sema (similar to grits but much thicker because you have to roll it into a ball and use it to pick up other items on your plate with your hands), rape (pumpkin leaves), red beans, spinach, fried chicken (a staple) or chomba (fish) and rice (a staple). After dinner, we were offered a piece of fresh fruit (usually an apple grown in Malawi) or papaya. The table rotated so it was easy to serve yourself without disturbing others.
The girls used a coal burning stove to cook meals when there was no electricity and brought in water from the personal reservoir for bathing and personal hygiene when there was no running water.  I believe everyone owned a coal stove because you never knew when the electricity would go out.  Bottled water was always used to cook and for personal consumption.
In Malawi, it's important for everyone to sleep under a mosquito net.  Not all mosquitoes carry malaria but who knows if the one that bites you is not infected.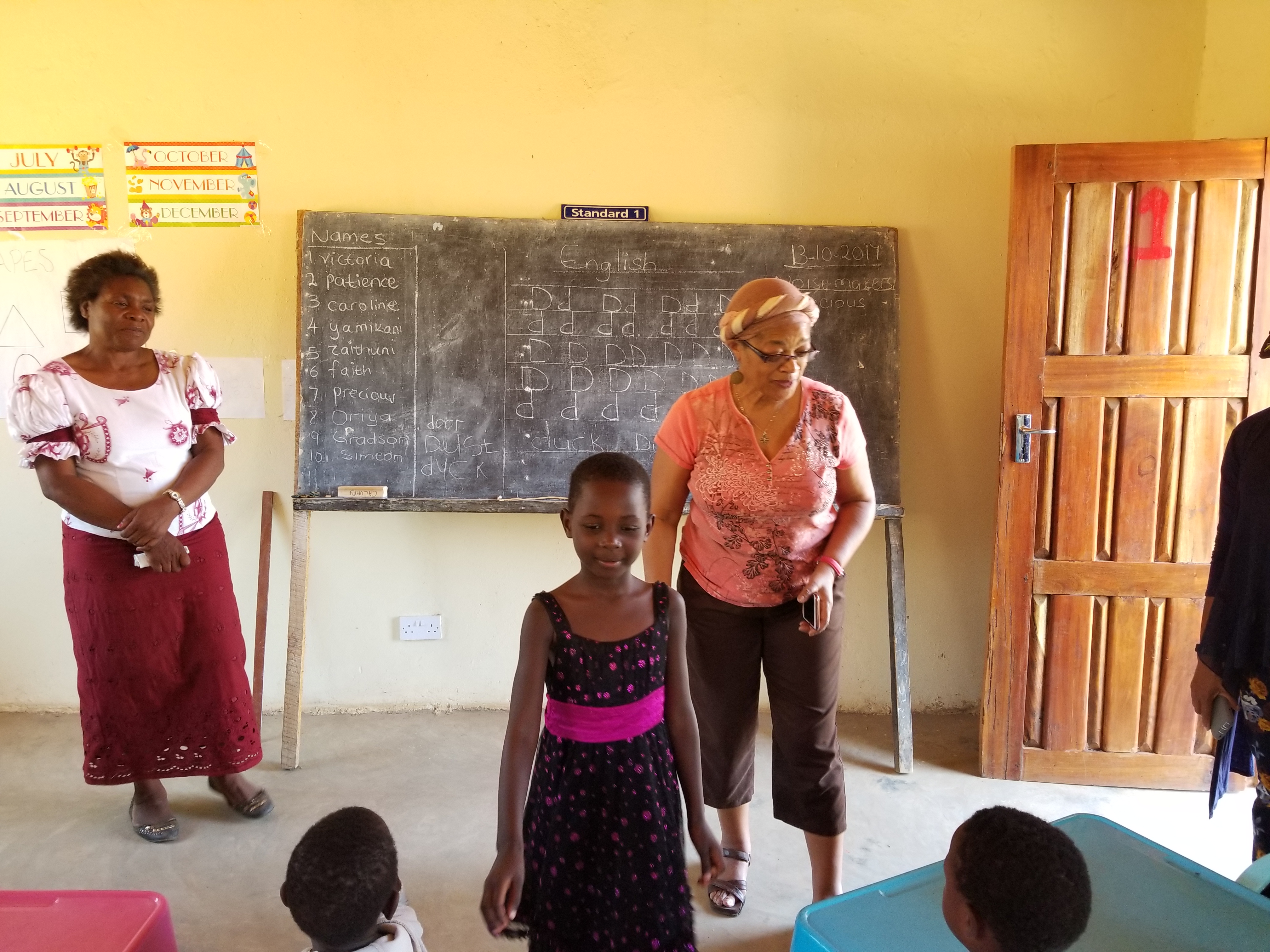 Following a day of rest, once arriving in Malawi, we headed to the school. There were two kindergartens and a level one classroom with about thirty students total. Walking into the classes, engaging the four and five year old students was truly worth the flying fears I had to overcome to make this trip. The children were happy singing songs of praise, sharing the knowledge they had gained and very eager to use the new school materials they received from Mama Barbara. There's no school bus to pick children up; most of them walk long distances to get to school. Their parents or guardians know that an education is their way out of poverty. I shall never forget the sound of their voices and the look on their faces as I stared and made eye contact.  Spending time with those children was truly, by far, a life changing experience for me.  Oh! I believe just about every boy in the level one class was named Blessings.   People I met were eager to tell you the meaning of their name; they all had significant Biblical or life meaning.
During a visit to downtown Malawi, block after block I noticed men with Singer sewing machines set up on the sidewalk.  I don't mean one per block but where every there appeared to be space, a sewing machine was set up and someone was making beautiful African attire for women or sewing dress shirts, suits or slacks for men.  I was reminded that I couldn't just photograph this scene or the people randomly so I asked one man if I could take his picture and he agreed if I paid 1000 kwacha ($44.00 US Dollars). He had to negotiate with the machine operator next to him because they were seated so close to each other.  That was a lot.  I was really in a giving mood and I was  just learning how to convert the currency; he did very well that day. 

After Sunday worship at Calvary Family International Ministries, Harold took us to a Wildlife Animal Reserve. 

It was time to board SA Airways again for the flight back to Jo'burg after 8 days in Malawi.   In Jo'burg, we parted with Shon (he headed back to the US).  On this leg of the trip we used an Airbnb.  Once the cab driver located the building, we discovered the three beds that were advertised didn't exist.  The tiny cottage had one full bed and two chaises that reclined into what the owner wanted to call beds.  We gave Barbara the bed (her sleeping arrangement in Malawi was really bad).
Our tour guide arrived early the next morning and took us first to Lilliesleaf Farm.  July 1963, SA security police raided the farm and captured 19 members of the Underground, charging them with sabotage.  Members of the African National Congress were holding secret meetings on the farm.  Nelson Mandela lived there under an assumed name and worked as a gardener in disguise until he was discovered in that surprise raid.  We were told that someone thought it was odd that so many vehicles came and went from the farm and reported to the government.  Mandela and other anti-apartheid activists were arrested, and those found guilty served lengthy sentences on Robben Island for treason against the government of SA.  Google Lilliesleaf because this was another fascinating piece of African history I enjoyed and you may find it interesting.

The next stop was Soweto, Pretoria to see the home where Nelson Mandela lived with Winnie and their children.  Bishop Desmond Tutu's lived just down the street from Mandela.  The most vivid memory I have of Soweto is watching news footage of the Soweto Uprising, where school age children were randomly gunned down simply for protesting. There is a monument dedicated to 13-year old Hector Pieterson who was the first child to die in that uprising June 1976. The holes in the small brick home where security police fired bullets hoping to kill Mr. Mandela or his family are very visible.  I got a chance to sit at the table where Mandela sat; see where he and Winnie and the children slept and where a brick wall was erected in the house to act as a barrier to ward off bullets entering the home.  I had to hold back tears.
The following day, we took a 45 minute ride on the ferry to visit Robben Island.  The tour bus made two significant stops - the limestone quarry and the maximum security prison. There was no real need for the island's limestone during the time of Mandela. Prisoners would break up the stone and carry it to one end of the quarry one day and then back the next- the work was really just to keep them busy. As a result of working with the white limestone every day, Mandela suffered from eye problems.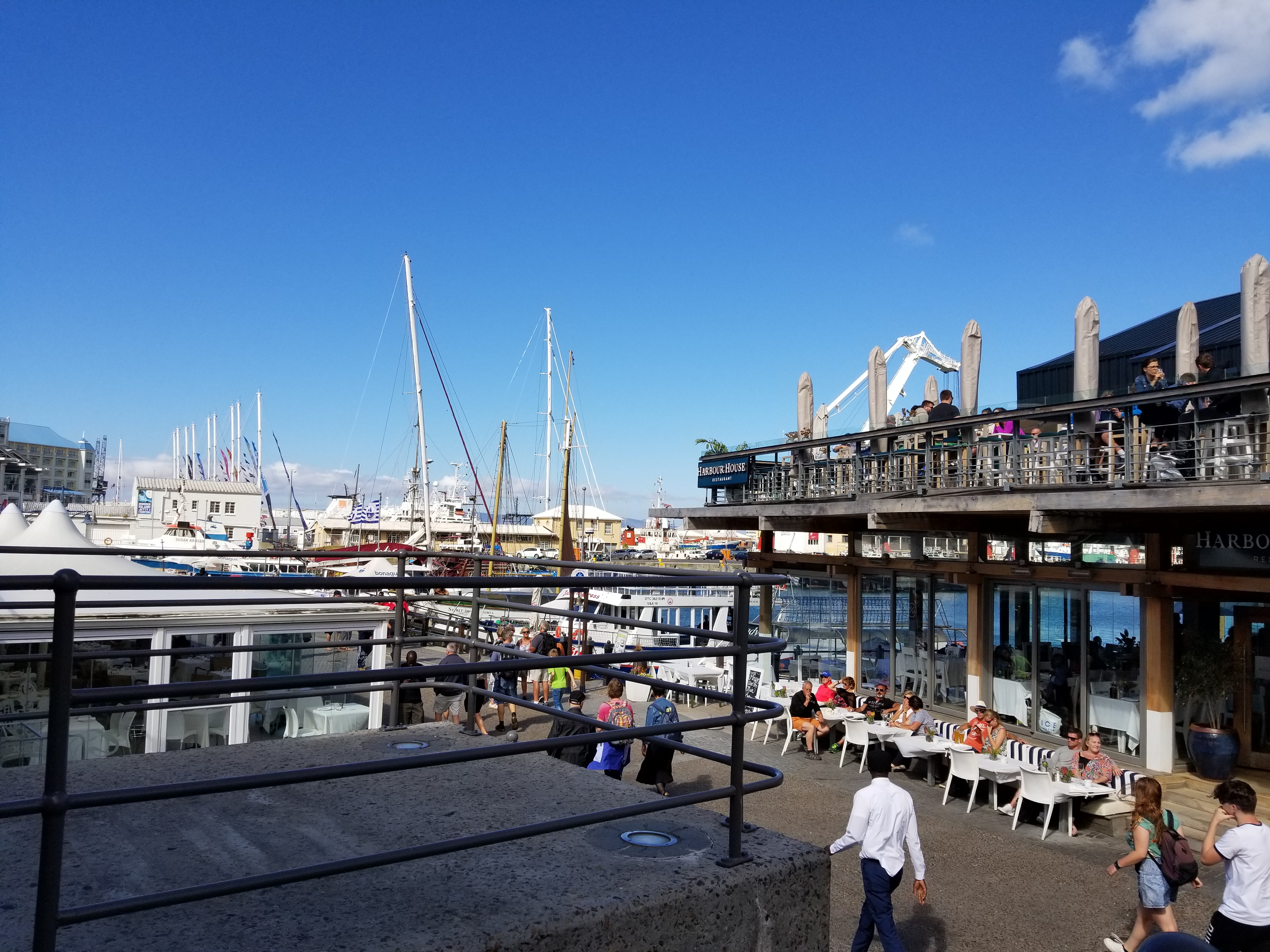 When we arrived at the prison, we heard someone saying, "Please move this way and follow me. You're free to step inside the first cell."  The guide on the tour bus told us we would meet a former prisoner but I don't believe anyone knew the gentleman speaking was he.  We all heeded his instructions, taking an opportunity to peep inside the cell as he suggested. Walking down the cell block, you make your way to Mr. Mandela's cell which was locked.  He then urged everyone to move to the last room on the left which turns out to be a large seating area with benches around the wall and exhibits in strategic locations.  Everyone is in place and he starts to speak again, first giving some housekeeping rules and a brief history of Robben Island, especially the injustices prisoners received while serving time on the island.  He suddenly adds, "I was a prisoner on Robben Island; serving time for attempting to overthrow the apartheid government."  From his heart, he eloquently shared his personal, powerful story of survival, perseverance and endurance for over 30 minutes.  It was riveting!  He said when first asked to share his experience as a tour guide, he refused many times because it was so difficult to come back and relive the memories he had of such a horrible place.  However, after he couldn't find work, he finally accepted the offer when they called the last time.  Telling the story has helped, he said.
The final leg of the trip was Cape Town.  When we first arrived in Jo'burg, we all gave our train fair and electronic copies of our passports to Barbara's friend that lives there, only to learn when we returned to Jo'burg, the train station didn't accept passport copies.  They wanted to put their eyes on each of us.  When we arrived at the station, all seats on the train are sold out completely.  There were seats on the Greyhound Luxury Liner; not a problem, we are three adventurous seniors.  We purchased our bus tickets and returned the next day to board the double deck Greyhound (that served coffee and cookies) for the 18 hour ride from Jo'burg to Cape Town.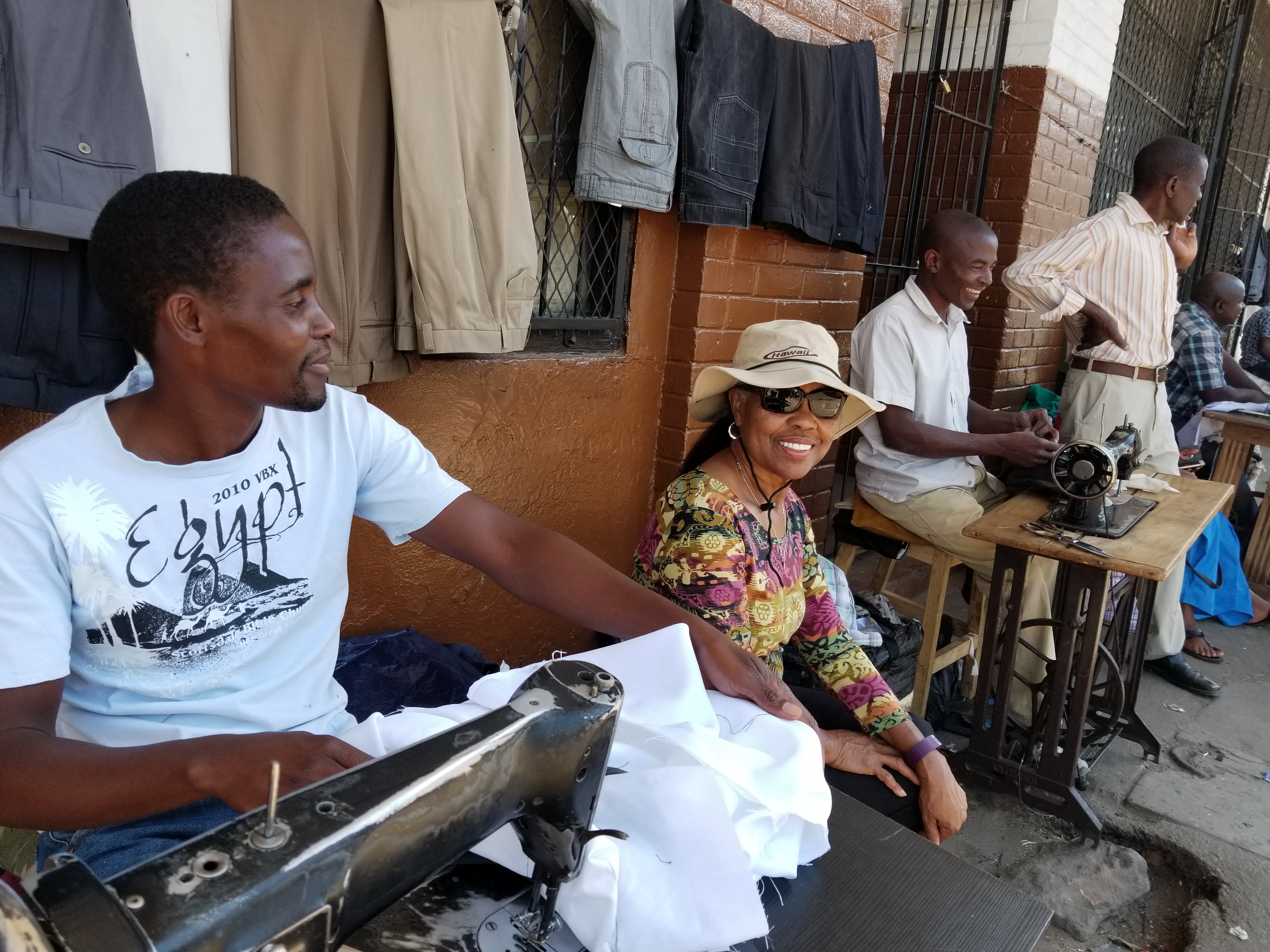 I got a chance to experience some beautiful scenery in the two hours before sunset.  
The person we rented from in Cape Town met us at the bus station and took us to the apartment.  We finally hit the jackpot and had a place large enough to let our hair down.  This gorgeous apartment had 24-hour security, a patio view of Table Mountain, two bedrooms, complete kitchen, washer/dryer, 50-inch flat screen, satellite, free Wi-Fi and Burger King less than a block away.  You couldn't get a hamburger your way; they only served chicken and chips.   
On one occasion, I paid a 100 Rand ($7.69 US dollars) for something I really wanted to document.  I was captivated by so many things in their culture that mirrors our westernized culture.  They have a large crime problem as we.  In some areas you won't see a house not protected by a tall fence with barbed wire at the top.  Guest never just pop in because the homeowner has to open the gate and let you in.   I saw this in Jo'burg and Malawi.  The Jo'burg tour guide said if you wanted your automobile to be in the driveway in the morning, you best have a tall fence and a gate.  Cleanliness is important.  Sinks are in most restaurants and if the homeowner doesn't have a sink in the dining room, a basin is brought around and each person has to wash their hands before dinner
I hope these photos from the Mother Land explain why I was so overwhelmed that God gave me an opportunity to experience this in my lifetime.  The African Continent is large and I only saw a very small portion.  There were many photos I wanted to take but out of respect for others, I chose not to.  I am looking forward to being the hands and feet of Jesus with annual visits, if the Lord's will.