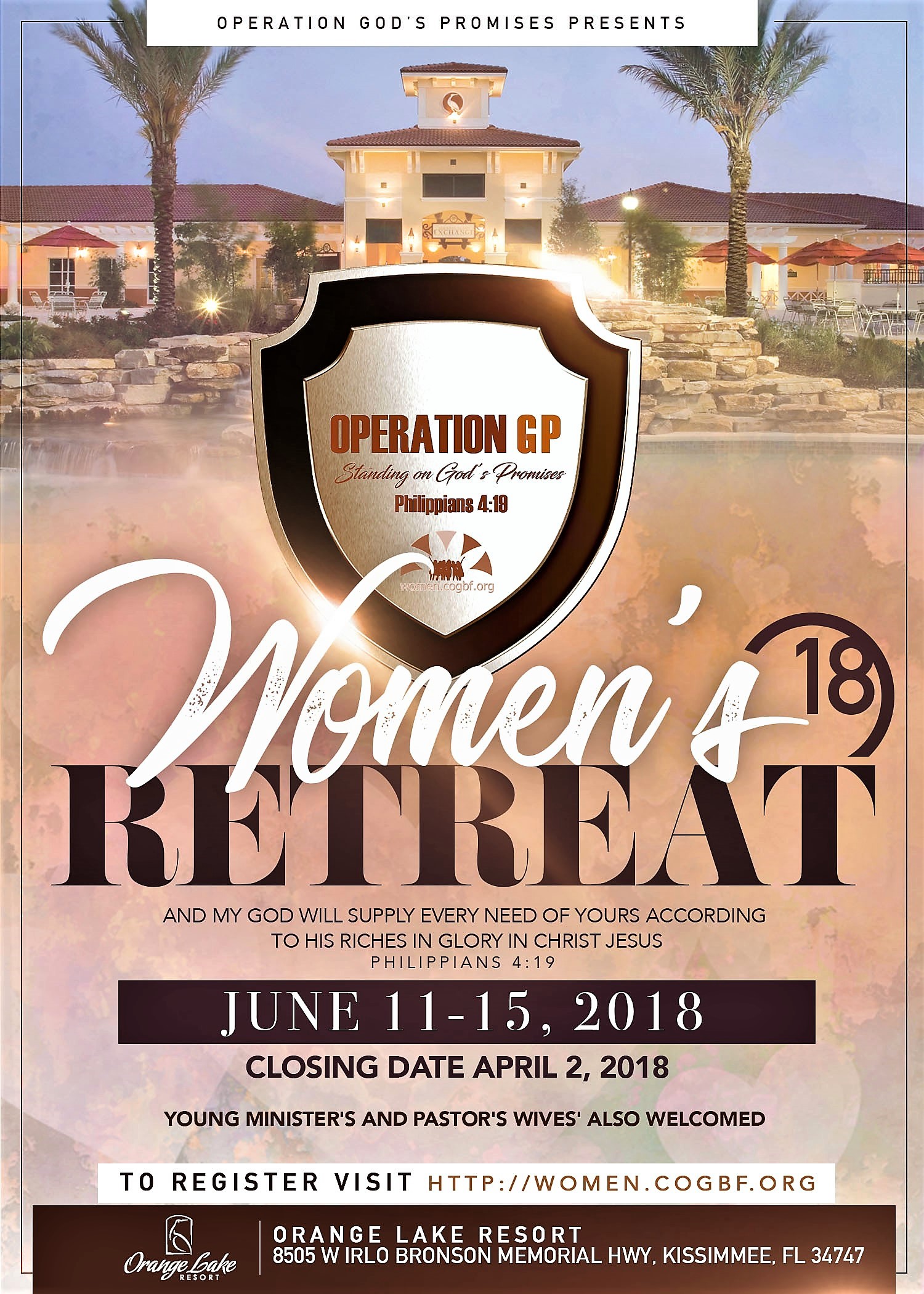 The COGBF National Pastors and Ministers Wives' Retreat is held annually (most often) at the Orange Lake Resort and Country Club in Kissimmee, FL The goal of the Retreat is to provide a week of activities where pastors and ministers wives' can relax and refresh themselves from the daily demands of serving the church, their spouses and families. Attendees are encouraged to interact and fellowship with other districts and to seize every moment to draw spiritual strength and wisdom to work with God's people.
The National Women's Ministry is also on the cutting-edge of growth with our state-of-the-art National Website that allows us to minister all year long.  As we continue to enhance the quality of our programs, it is incumbent upon us to return to the original intentions of our Retreat.
While the men maintained their strict allegiance to pastors and ministers only, somewhere along the way, the women allowed a variety of different categories to attend. To be completely candid, we have moved far beyond the original mission of our stated goals which is prompting this change. The Council makes a huge investment in this program and the portion each attendee pays in no way covers the full cost to the National Church.
Consequently, what follows are the new eligibility rules that will go into effect at the 2017 Retreat.
ELIGIBILITY TO ATTEND
All attendees must fit into one of these following categories:
a. Is the wife of a license, ordained minister or elder in the Church of God by Faith, Inc.

b. Is the widow of a license, ordained minister or pastor who served in the Church of God by Faith. Those who remarry a man who is not in the above status, are no longer eligible to attend the retreat.

      

c. Is a divorced, previous wife of a COGBF license, ordained minister or elder whose husband is no longer serving as a result of "his" fall from grace. These women will not be penalized for their spouse's indiscretions.

d. Is an "approved, invited guest" of a member of the Church of God By Faith, Inc. who is also the wife of a license, ordained minister or elder.
It is important to note that all attendees must answer these questions during the online registration process.
INELIGIBLE TO ATTEND
All women who do not fit into one of the four categories listed above. 
REGISTRATION
All registrations must be made online here before the advertised deadlines.
COMMENTS
If you need to make general comments or ask questions, please do so in the Comments Section below.