Page 1 of 22
Written by the COGBF Women's Ministry Staff: March 31, 2015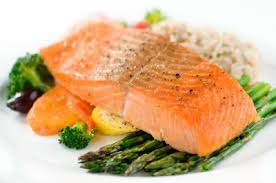 For some people, cooking is a fine art filled with secret techniques that families have guarded for decades. For others, preparing good meals is a daily grind that only exists to stay alive.  This blog is particularly unique because of our concerted efforts to get the "master cooks" of ByFaith to give-up some of their long cherished secret recipes!
However, we're also seeking fast meals, low calories dishes and special desserts to round the contributions off.  We're also looking for low carb and low sodium meals for diabetics and fancy smoothie recipes as well.  So don't be bashful, email your favorite recipes to us on the "contact us" tab on the right! 
Pan-seared Salmon with Roasted Asparagus
Submitted by Sarah Lundy (Jacksonville District) Posted April 3, 2015
Ingredients:
Salmon Filets (Allow fish to sit at room temperature)
Seasoning Herbs
Old Bay Blackening Seasoning
Garlic Powder
Pepper
Pinch of Sea Salt
Parchment Paper
Salmon Directions
Directions
In a skillet, heat a very small amount of EVO (Extra Virgin Olive Oil).  Cook on both sides, 3 minutes on medium low.  If filets are thick, allow them to cook slowly for no more than a total of 10 minutes.  Or forget everything I've said and cook until flaky. Salmon Filets will dry out if cooked too long.
Wash Asparagus spears, snap ends off, pat dry, place on cooking sheet lined with parchment paper (helps with the easy cleanup), toss them in a small amount of EVO, season lightly with herbs and garlic seasoning. No salt is needed.   Bake for 5 minutes or less.
Please watch the video below to learn how to pan-sear salmon.