Page 10 of 10
Mother Lillie Pearl Williams
Greetings, in the name of Jesus, our Lord and savior. It gives me great honor and joy to have this opportunity to help inspire each of you. I pray this will be beneficial in your growth and development of leadership.
I am the wife of Ruling Elder, Superintendent and Pastor James E. Williams of the Tampa Westcoast District. My day starts with devotional consecration and fellowship with God. One of my favorite scriptures is Phil 4:13, I can do all things through Christ that strengthens me. I rely on His strength each day, that's where my help comes from. I understand the power of prayer, for it is the utmost principle in my trust and belief in God.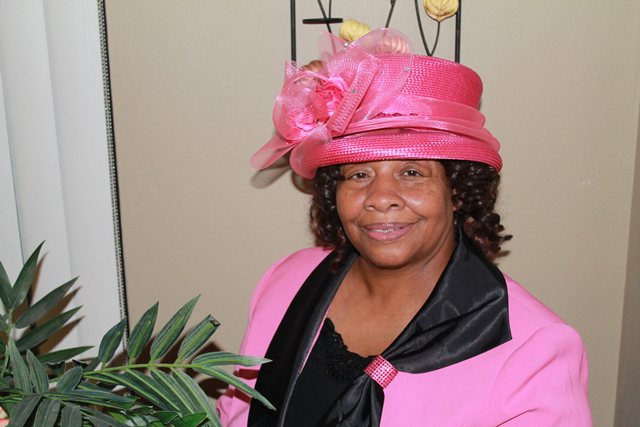 Being a Leading Lady, you touch the lives of many women applying the concepts of Christ. I start in my home, local church and community. This establishes the foundation and support needed for the district   and national church levels. I find an inner joy and strength, in reaching out to that soul, that don't know the Lord as a Savior. I share my love throughout the church with encouraging words, to inspire and healed the hurting.
On this journey, many hats are worn; wear them well as unto the Lord. Keep your focus, testing of your faith will come to take your mind from the promises of God. Stand therefore, it's only a test. Changes bring challenges, believe in yourself.  I can and will do all things through Christ that strengthens me.
I have served as Chairman of Deacon wives, Minister's wife, and presently as a Superintendent and Pastor Wife, Mother and Missionary. These have been stepping stones to my transitioning into being a Ruling Elder's wife.
Please enjoy this poem:  

A Lady of many Hats
A Lady of many hats
Wear them most earnestly
Always able to help others bear their load
Because the Lord strengthens me 
Wearing the bonnet of a wife and mother
With submissiveness and pride
Walking in the spirit of Sarah and Ruth 
With my Boaz by my side
With a steadfast and loving hand for each job
I must put wisdom on display
Whether beanie, sun, fedora cap or dress hat
I'll wear them in a Christian way
I'll be Proverbs 31
My covering I shall not deny
My hats are not a fashion statement
Or matching accessory
They are the evidence
That as a Leading Lady…Christ is leading me