Written by the Prayer Director, Minister Leticia Smith-Hardy, Ph.D. 

There is a clarion call for Prayer Warriors to lift up their voices like a trumpet and sound the alarm that prayer still works. As Believers in Christ Jesus, we know that prayer is a mighty weapon which empowers us with the faith to quench all the fiery darts of the wicked.
As the 20/20 Vision Prayer and Outreach Director, it gives me great pleasure to support the vision of our newly appointed Bishop, James E. McKnight Jr.
One of the first phases of Bishop James E. McKnight's vision was to establish a National Church of God by Faith Corporate Prayer line. For th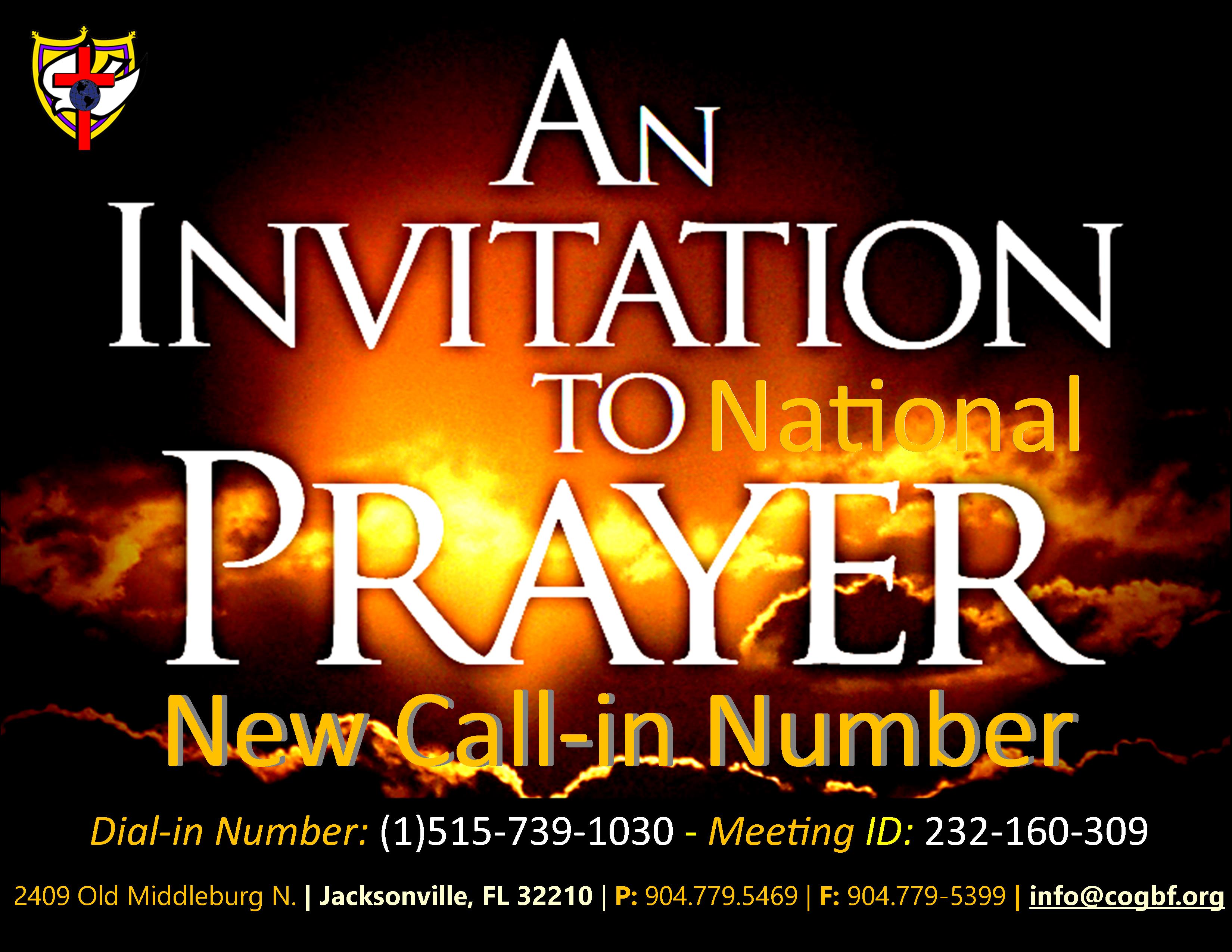 e twenty-first century, the Lord revealed His vision to Deacon John McKnight to construct a Corporate Prayer Line and select a team of committed members to assist him in executing God's vision. These members consist of the following: Minister Cornelius Dunmore, Sister Shanita Dunmore, Sister Cornell Hampton, (Elder) Dr. Byron Smith, and Minister Lawendell Price ll. The Corporate Prayer line operates to provide prayer to mankind all over the world each month, on the 1st & 3rd Monday mornings, at 6:30 am. The dial-in number is 1-(515)-739-1030, and the Pin number is 232-160-309. Also prior to our national summer and winter general assemblies, the Corporate Prayer team schedules ten days of consecrated prayer for the spiritual success of our church services and events.   
A second phase of Bishop's vision was birthed July 6, 2016. The National 24 Hour Prayer was established. The purpose of the 24 Hour Prayer line is to utilize prayer as a spiritual tool to impact the lives of individuals all over the world in a personal and profound way. The ministry is staffed with trained, dedicated, and committed volunteered prayer warriors to pray with the guidance of the Holy Spirit. Provision has been made for people to be able to dial-in and receive personal prayer during difficult circumstances. The dial-in number is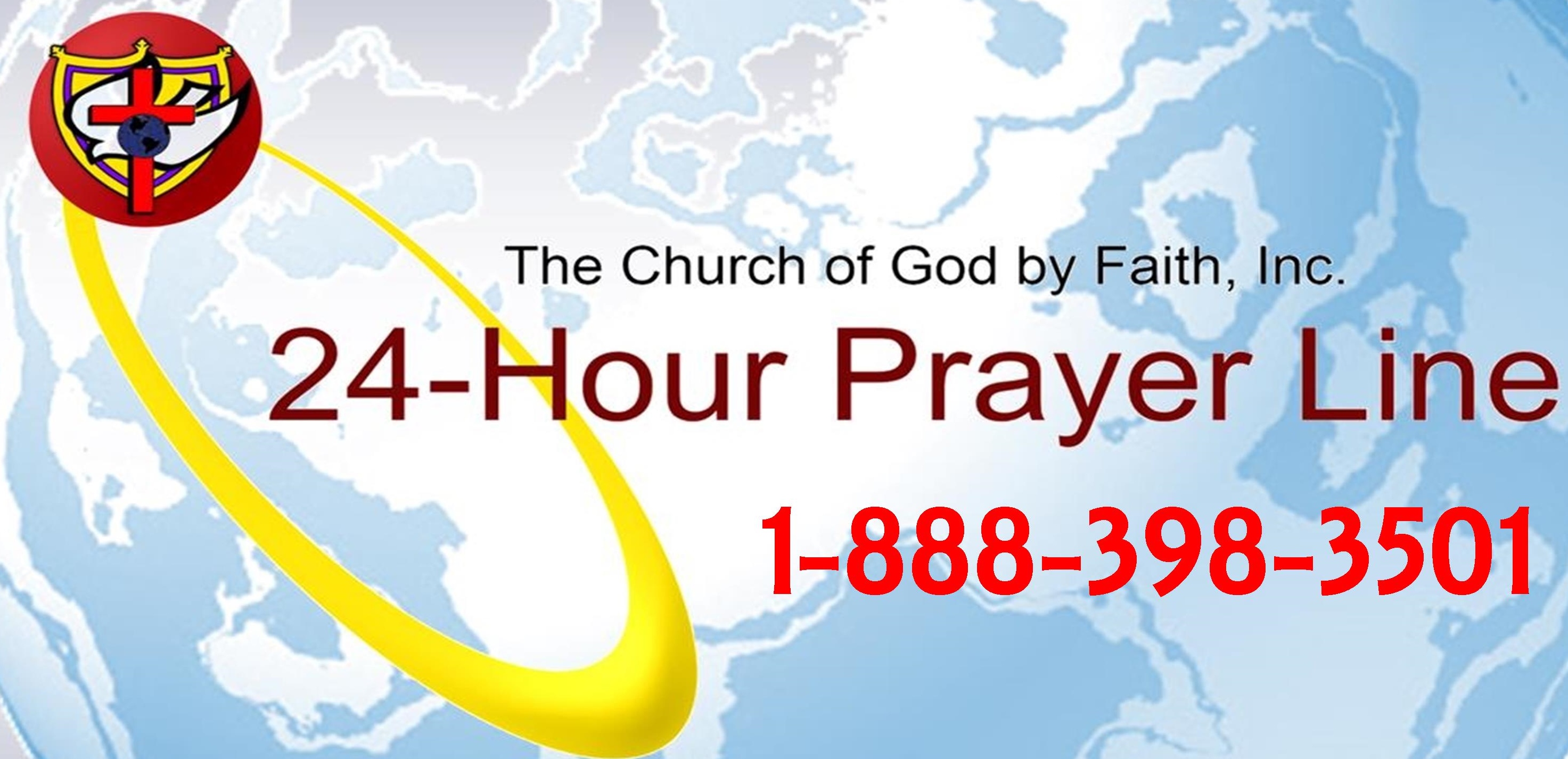 (888) 398-3501.
The third phase of Bishop's vision for prayer and outreach is scheduled to be executed March 2017. Free Prayer & Outreach courses are available to Church of God by Faith members. These courses are designed to inform potential Prayer Warriors and existing Prayer Warriors about the importance of praying with strength, power, and purpose. The Instructors selected to teach these courses have received extensive training and are committed to inspiring, motivating, enlightening, and empowering students to become effective Prayer Warriors. Instructors to begin the first phase of study are: Sister Martha Johnson, Minister Lawendell Price ll, Sister Pamela Pickens, Minister Lynn Livingston, and Sister Delanea Price.
The Prayer & Outreach Ministry Team is committed to working collaboratively with the National Board of Christian Education and the National Home and Foreign Mission Departments to reach the needs of humanity.
Additionally, the Prayer & Outreach Team provides updates on the progress of the Prayer & Outreach Ministry and conducts training sessions for Volunteer Prayer Warriors during the summer and winter general assemblies.
 Our plan of action, for the near future, is to open a National Prayer & Outreach Resource Center at Temple Church of God by Faith located in Ocala, Florida, as the headquarter for training and implementation.