Page 15 of 22
Shrimp Fried Rice
From the COGBF Cookbook:
Submitted by Vashti McBride (South Carolina District) Posted April 2, 2015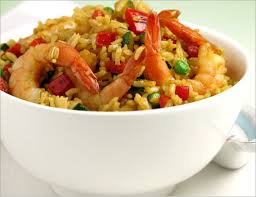 Ingredients:
2 oz. cooking oil
4 cups cooked rice
1 cup chopped, fresh or frozen shrimp
1/4 cup chopped green onions 
1/2 cup fried eggs well done
2 ounces been sprouts
2/3 teaspoon salt
1/4 teaspoon Accent
1 ounce soy sauce
DIRECTIONS
Heat large hot pan with two ounces of cooking oil. Saute shrimp for 2-minutes. Add cooked rice and stir fry for 3-minutes. Combine other ingredients; stir fry til done.